Based in Banbury, Oxfordshire, Laser Lines first opened for business in 1975 as a distributor of lasers.
Since then, the company has grown to become a total solutions provider for laser technology, 3D printing and additive manufacturing products. It represents overseas companies in the UK, including Stratasys, OR Laser and SLM Solutions.
The challenge
Initially, the company's customer base was very narrow, mostly universities and research environments.
More recently, demand for laser and 3D printing has expanded exponentially, with opportunities to be found in every sector, from architecture to aerospace, manufacturing to medicine.
While Laser Lines had managed basic in-house marketing communications in the past, it became clear that they were not equipped to reach this new source of customers.
As Laser Lines' managing director Ralph Wilkin explains: "In the early days, our customers were a relatively small, specialist group. Any marketing we did, we did ourselves. But then, as our potential market grew, we realised our expertise lay in our products, not in public relations – and we were failing to get our message out to the wider audience."
Laser Lines operates in a fast-moving industry, and it was coming up against younger, aggressive competitors. Its brand, from the content of its website to its media coverage, was outdated. "We needed a communications partner to energise our marketing output and respond quickly to new developments across a wide range of media," says Laser Lines' sales director Mark Tyrtania.
Our solutions
"Padua Communications was recommended to us by one of our partners," explains Ralph. "It came up with some unique and innovative ideas. We quickly realised that these guys knew what they were doing."
Padua Communications got to work immediately and began implementing a broad range of strategic and creative solutions.
Content
After carrying out substantial research, Padua Communications began appealing to Laser Lines' target audience with stories based on the company's USPs:
Reputation as a reseller
Customer-centric ethos
Strong expertise
Proven results
Approachability
The range of content produced is varied and interrelated, covering social media, the company websites and other online and offline activity.
"What has been fantastic," says Ralph, "is they will come up with the creative angle, speak to a technical sales engineer for 20 minutes and produce the web content, blog or article from that. We might even get two or three pieces out of it. That has been life changing for our company."
"Padua Communications are a fun, vibrant team and I have no hesitation in recommending them – just not to our competitors!"

Mark Tyrtania, Sales Director, Laser Lines
Public Relations
Padua Communications' aim was to position Laser Lines as experts in its field.
By creating targeted content and leveraging contacts in the media and across the industry, the company can take full advantage of numerous editorial and publicity opportunities.
Padua Communications built an audience reach of over 400,000 people through media coverage alone in a year.
By circulating thought leadership pieces, concentrating coverage in respected titles and organising meetings with the media at key events, Laser Lines' standing in the industry has soared.
"Padua Communications has been a really good partner to help us promote, publicise and educate our existing base of customers and future customers," says Mark. "With the fast pace of product launches, new materials and new processes, that's quite a task!"
Websites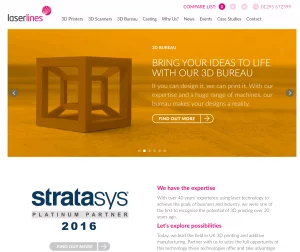 Padua Communications modernised the company's predominantly product-based websites to ones that offer a more engaging experience focussed on the customer.
This allows Laser Lines to better explain why customers should buy from them rather than other resellers. The new websites work better on mobiles and are optimised for Google search.
The websites created by Padua Communications are laserlines.co.uk and 3dprinting.co.uk.
Using a modern WordPress platform, an attractive design and original content, the websites optimise lead generation and present customers with a vastly more attractive proposition.
"We have had really good feedback from online customers," says Mark, "and the websites are continuing to evolve all the time."
Branding
Padua Communications updated the Laser Lines logo and gave each part of the business its own identify.
By creating a new campaign for a flagship product using the new brand identity, Padua Communications brought a fresh approach to the company's advertising.
Jeryl Adcock, Laser Lines' marketing manager, describes the change to the company's branding: "Padua Communications transformed the image of the business from one that was specialist and insular to one that is outward looking and approachable."
Competitor research
The 2015 TCT Show (a trade event for 3D printing technologies) at Birmingham's NEC was a sobering experience for Laser Lines as it demonstrated to the company how its competitors were stealing a march on many of the changes taking place in the market.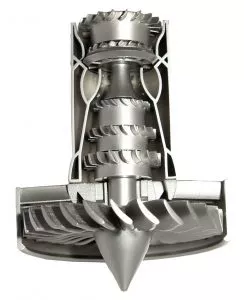 Padua Communications knew that Laser Lines could not rest on their laurels, so it immediately undertook a widespread analysis of the industry, looking at what competitors were doing and recommending ways Laser Lines could outdo them.
Mark describes what happened a year later at the 2016 TCT show: "Thanks to Padua Communications' competitor research we were able to up our game and produce a much larger, more accessible stand that resulted in tremendous feedback and a really, really successful show."
The Padua Communications difference
Ralph Wilkin, managing director: "It is like having another member of the family. Padua Communications fits in with the way we work. It has taken care of all the marketing, which frees us to concentrate on our core competencies. I would certainly recommend them to any business that wants to move onto the next level."
Mark Tyrtania, sales director: "Working with Padua Communications has been a godsend. It has worked out very well and it's a great partnership. I would certainly recommend Padua Communications. They are a fun, vibrant team to deal with and I have no hesitation in recommending them – just not to our competitors!"
Give us a call on 0203 282 7570 or email us at [email protected] to find out how Padua Communications can help your business.
Free marketing & PR resources
Sign up we'll send you our free marketing and communications newsletter packed with helpful advice, along with details of our events.