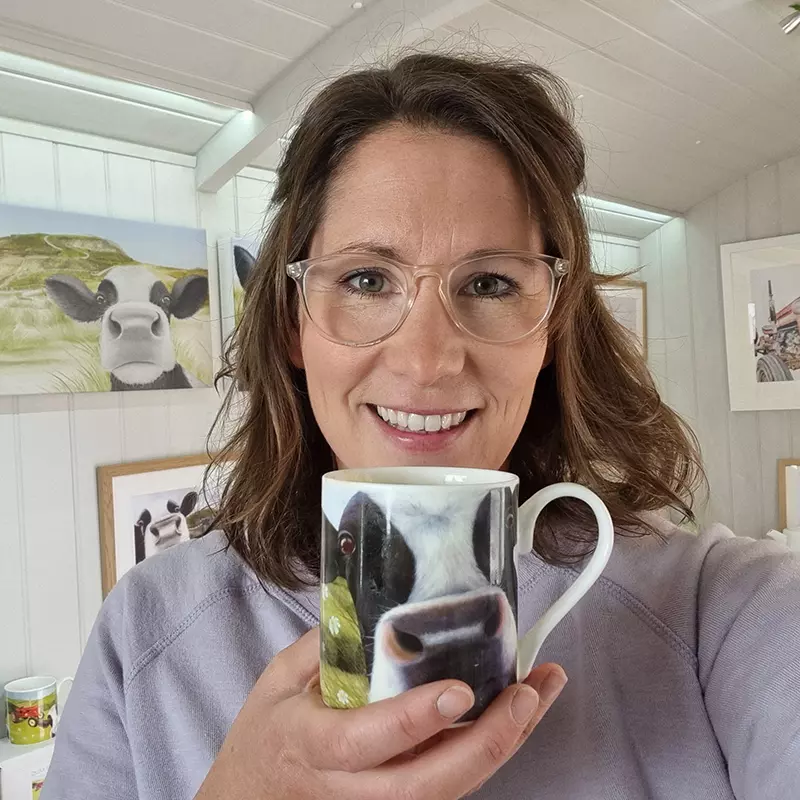 "When you bring in a fresh pair of eyes, you realise all the different approaches that you might not have thought about before."
So says Lucy Tidbury, owner of art and giftware shop, Lucy's Farm. With an established physical shop and customer base, Lucy has been selling her unique brand of animal-based art for eight years. With a sales process that relied heavily on attending shows, when Covid-19 hit, Lucy was forced to adapt and embrace online selling.
Padua Communications was bought onboard to help increase brand awareness, and set about helping to refine the marketing strategy to focus the business' attention on the key actions that would deliver the best possible outcome in the shortest space of time.
Getting to know the brand
This was the perfect challenge for our Paparazzo service, which is designed for business owners that need help with PR strategy or to brainstorm ideas. We started with a bespoke session, spending time with Lucy to understand her business better, what needed to be achieved and thinking about where the brand would best be featured.
What followed was a mixture of defining the marketing and PR strategy and implementing it, building on what had gone before to help Lucy refine her message and tailor it for different audiences.
Securing PR
Following the session, we drew up a list of target media brands, publications and websites that would align with Lucy's vision for the business. We then devised a way to gain coverage in as many of them as possible.
Using key calendar dates and piggybacking off the development of new products, we drafted several press releases about Lucy's Farm, reaching out to the key media we identified in the lifestyle, wholesale gift and Dorset local area sectors to secure coverage for the brand.
After this, we established a reviews programme for the company and identified bloggers that could test and review the products. We also increased the awareness of Lucy herself, securing a double page spread about Lucy in the local Dorset Business Life magazine. There then followed many different feature and competition opportunities that we secured, collaborating with Lucy and her team on logistics and sharing content on social media.
Excellent results
"Padua Communications hugely helped me with the strategy side of my business and focusing my marketing. It helped me think about who my target market is and who I need to aim at. It made me think about what my plans were for the next 12 months, where I was going to focus, how I need to plan my time and my marketing throughout the year, not just on a day-to-day basis like I was doing before," says Lucy.
"I would highly recommend Padua Communications," she adds. "It has really opened my eyes to different opportunities. When it is your own business, you can get too involved and start taking on everything. I am not very good at delegating things. I want to keep control of everything. For anyone who is working on their own business or by themselves, having someone like Padua Communications working with you takes the pressure off a bit.
"Working with Padua Communications is just like working with friends. Nicky knows my business so well. She really supports my business and understands what I am trying to do and what I am trying to achieve, which really helps me. I just feel like I could talk about anything really, and they'll help me as much as they can.
"The rewards that I've seen come back to my business, not just through sales, but through brand awareness, has definitely made it worthwhile."
If you need help with marketing or PR strategy, want to secure some extra coverage for your business or would like to inject some fresh ideas, give Padua Communications a call on 020 3282 7570 or email us on [email protected].
Free marketing & PR resources
Sign up we'll send you our free marketing and communications newsletter packed with helpful advice, along with details of our events.