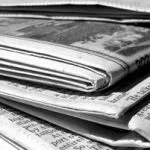 We get asked a lot about press releases so we thought we'd share some of our knowledge to explain what a press release is and how it can be used. A press release is a short summary of a piece of news, which you can use to inform journalists about key developments at your company. Its most important feature is that it needs to be topical – it should make clear what is new.
You use press releases as part of a marketing strategy to let the media know what you're up to: forthcoming events, new customer wins, new appointments, charity and community projects. (Read our earlier post to help you think about topics!)
A press release has a particular format (read more about this here) and as a writers and PR professionals, we also think about our audience – journalists.
PR professionals have to balance what a client is asking them to promote with what a journalist wants. In a nutshell, with a press release, this includes well-presented, clear, concise copy that:
saves the journalist time and energy
doesn't require them to phone to establish key facts
is easily edited for use
has no grammatical mistakes
is relevant to their audience, whether that's a reader, listener or viewer.
Read our next post to find out more about what a press release should include, how it should be written and laid out or come and join us on a press release writing course.
Free marketing & PR resources
Sign up we'll send you our free marketing and communications newsletter packed with helpful advice, along with details of our events.