There was a real buzz at our Social Media Week breakfast seminar this week and it wasn't just about the bacon rolls. Our panel of four key speakers got to down to business on everything from how to create relevant blog content and making the most of LinkedIn to knowing your HootSuite from your TweetDeck.
Leigh Hopwood, owner of Redd Marketing and chair of the Chartered Institute of Marketing for the South East Region, got the ball rolling with her 10 Quick Steps to Getting The Most Out Of LinkedIn.  Leigh, who secured her biggest client through LinkedIn, explained why it is all about your profile with plenty of pointers on how to optimise performance, grow your network and ultimately engage with new clients. She also explained in a lively Q&A discussion afterwards about the pros and cons of purchasing a full version of LinkedIn.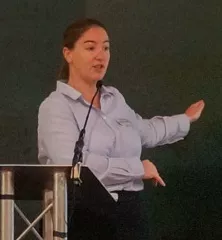 Sally Pritchard, founder and managing director of Something Big, threw out any conceived notions that the UK's 10 million Twitter users were just looking to find out what Justin Bieber had for breakfast. In fact 75 per cent of users are ABC1s.  With a ream of stats at her fingertips, she told us about the power of the hashtag and the perils of over tweeting.  With lots of tips on how to engage followers with Twitter Takeovers and games of Hide and Tweet, she also explained the pros and cons of using promoted tweets.  She told the seminar, 'Set your tone – don't stick to a corporate format. Twitter should be fun, friendly and not too sales-y.'
Tracy Stonard, managing director of Magenta eMedia, showed how through regular blogging you can grow your business to be a real contender. Why? Because she's done it with her first company Magenta Cakes, which became the number one blog on Google in her industry. Inspirational with her advice, blogging she told the audience must show your corporate personality, which in turn will build trust and expertise with your audience and ultimately closes sales. Her case study on how an established US spa business nearly went bankrupt but for the power of blogging – which saved the business and had a direct impact on creating $1.7m sales – was a lightbulb moment for many in the room.
And finally Nicky Rudd, managing director of Padua Communications, got us all thinking about what makes great web content. She also explained why having a social media strategy doesn't need to suck precious time out of your working day.  Content, she said, can be shared. 'Use pictures and videos and make the most of the free tools available such as Storify – a fantastic app to collect other bits of content you might want to share as part of your social media calendar; HootSuite – a  social media management system for businesses; and Followerwonk –  a powerful tool that helps authors tweet smarter and provides useful analytics to help you grow your social graph'.
To download PDFs of the presentations, click the links below:
Free marketing & PR resources
Sign up we'll send you our free marketing and communications newsletter packed with helpful advice, along with details of our events.