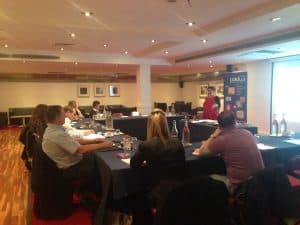 Padua Communications recently held a blogging workshop at the HG Wells Centre in Woking. The 3-hour workshop was aimed at local organisations to inspire and educate on how a blog can be used as part of the marketing mix to keep customers and Google informed and updated on what an organisation is up to.
Limited to 15 organisations, the workshop was a mix of practical advice and practical exercises to really get businesses thinking about their messaging, how often they could update content and how their websites could be used as central content hubs.
Feedback that we received following the event included:
"Good overview and introduction to blogging as part of the marketing mix. Very good resources to plan social media and blogging." Dance Woking
"The exercises at the beginning were really useful helping with inspiration for blog subjects that are not the same as everything else eg. what people want (top tips etc). I found it really useful and have headed off inspired and ready to write a blog!" The Lightbox
"Bitesize sections of info and knowledge reinforced by interactive sessions and examples of best practice." Woking Borough Council
"The workshop was informal, relaxed and clear." Woking YMCA
"The event exceeded my expectations – I came knowing nothing about blogging but left all fired up. I got lots of food for thought." Woking Community Mediation Service
If you are thinking about blogging, but don't know where to start, let us know and we'll pop you on our reserve list for our next blogging workshop or email us with a question at hello@paduacommunications.com
You can also check out our blog for ideas to get your started.
Happy blogging!